WF-902 GSM Unit for Water level monitor and alarm System
For water tank or oil tank system
(Water Proof box, ABS Plastic box ) (AC/DC12-24V Power input)
Order the samples directly from http://www.wafer-shopping.com :
It has always been a challenge when it comes to centralised monitoring the water level of the water tank or oil tank and also can remote control of water pump stations, dams and reservoirs within the area. However, advancements in GSM technology now make it possible to utilise the GSM networks as a wide area communications platform for telemetry applications. The system has proved the perfect communications platform for covering the vast distributed water network. Engineers have taken advantage of this technology and have implemented the first GSM telemetry application at a new booster pump station.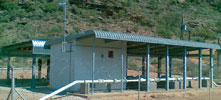 All communications between the remote pump unit, tank unit and wireless monitor/control unit is continuously monitored to ensure reliable ongoing operation and instant notification if something is not operating correctly.Automatic water level and pump unit monitoring and remote control system with SMS message notification direct to your mobile phone. From remote cell phone it is also possible to request an information from device. Device information readings will come as one or several messages.
You you can use the mobile phone or PC software to config the device easily.
Features:
Compatible with worldwide GSM mobile SMS Protocal;
Can config to use the SMS or phone calling alarm information notice to the management person
Accepts normally Open, Normally Closed or Changeover Float switches
Four water leavel detection
Auto-resend the alarm message or phone calling with a pre-set timer to avoid the mistake of the management person
Alarm infomation text for different level can be pre-set by the user
Optional Remote Monitor/Control unit to instantly view state of Tank and Pump and manual override of pump.
Water proof installation box design and easy input unit can monitor water flow and stop pump to prevent it running dry in event of low water level at supply.
The system has been design for low power consumption (making it suitable to be powered by a small solar panel at remote locations). Both the wireless Pump Unit and the remote Wireless Tank unit have Four switch type water level switch inputs,one alarm sensor input and two relay outputs available.
If you have any interest in our GSM management Unit,please contact us with our online skype service: wafer-service
System Map:
1. When Water Level is at Very low, Low, High and Highest ( four water level )then will send the Alarm message to Management Person or phone calling the management person. (you can preset to enable every position alarm function)
2. When Water level is lower than Lowest position, then will start the Relay1 ( Can be used to drive the water pump);
3. When Water level is higher than Highest position, then will start the Relay2 ( Can be used for the alarm speeker or alarm lamp);
4. When System alarm happens,that will Send the Alarm message to the Management Person;
5. When water level back to the normal postion,it will also send the alarm message.
6. System can be installed easily and automatic system adjust.
7. Every position alarm function can be enabled or disabled.
GSM Magnet Mount Antenna ( Specially designed for Water proof type GSM remote control box)
Optional water float switch ( water tank side mounting)