Person counter / people counter / people counting device WF-5001
The WF-5001 indoor people counter is designed to provide a simple, robust and reliable counting system suitable for public areas with entrances and exits up to 10 metres wide.
Package including:

1. Transmitter box

2. Receiver box

3. SD card (2G)

4. SD card PC reader

5. Power adapter (Two pieces)
The system consists of a transmitter and receiver that are placed on either side of the entrance. The units are powered with DC9V power adapter and have low power consumption. The system uses a fast-pulse narrow infra-red beam and operates effectively in all indoor conditions, including strong sunlight. The units are supplied in strong ABS plastic boxes suitable for high usage areas and with tamper-proof screws making the counter highly resistant to vandalism.
1. RS485 Connector

2. SD Card Slot

3. Power Connector

4. RS232 Connector

5. Reset Button
Features:
10 meters sensing distance
Extremely robust construction
Low power consumption
No external sensors, cables, switches
Unaffected by bright sunlight
SD card memory data stored,easy to be stored
Specifications:
Technology

Fast pulse narrow beam infra-red

Entrance/Exit Width

10 meters maximum

Housing

Robust polycarbonate with tamper-proof screws to make

Dimensions

Transmitter: 85mmx 58 mmx 33mm
Receiver: 85mm x 58mm x 33mm

Indicators and controls:

Transmitter:
Receiver

 

Power LED
Beam sensing LED
People counter WF-5001 program adapter
People counter WF-5001 Optional Counter display box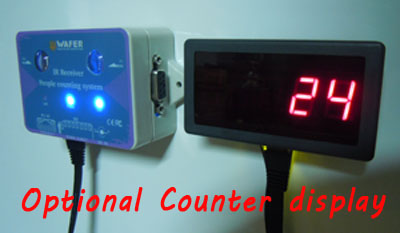 Display box:size: 79mm*43mm; Maximum counter number:99999
Software show:
Accessories: Double side sticker sheet
Installation projects: