GSM Intercom - for service help , emergency help
Product Special Features:
Power input: AC/DC12-24V or AC100-240V normal power supply is optional
Inside board support the rechargeable Lion battery (3.7V) For power off working
Double alarm input port
Key Lock for safety mounting and Easy maintance
Robust thick ABS Box
This color service calling front panel is thick and robust arcylic material with Customized painting and that panel is locked into the ABS box panel ,so that is very strong and safety. of course ,you also can select the stainless steel front panel
Good Gain Antenna inside the box for safety
Whole box Rain proof design
Perfect for unmanned booking office or any service calling help
Front panel can be customized with your company LOGO
Surface mounted
Very simple intallation and Just plug in and set up by SMS to start to use
Packing List including:
1 pcs GSM-Help box or 1pcs GSM-POINT box
( Inside GSM intercom box including: 1pcs Battery,1pcs antenna )
We also can do the customized designed front panel with your logo and picture,We have gray color and the red color box for selection. and you can customer the front panel color and the Logo..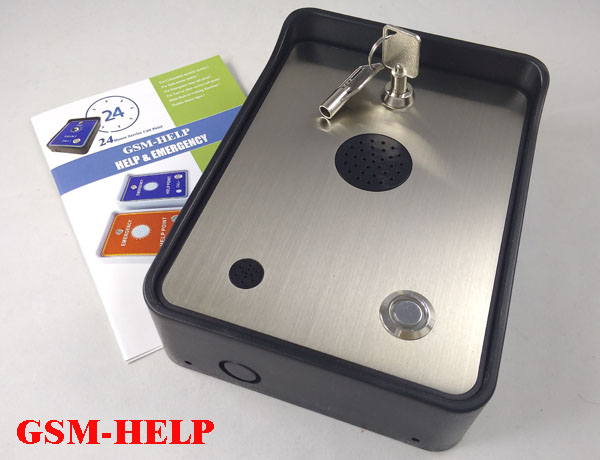 About GSM intercom GSM point -----------
When a visitor arrives, they push the call button and the unit generates a high quality audio call to up to 2 numbers to announce their presence for help or emergency calling to talk with the owner.
Sensor connection for alarm input port: (You need to use the Sensor with relay Normal open output)
Installation sample picture:
Inside recharageable battery for working when power off and the battery would be charaged automatically when normal power supply working again. also if the battery volume is low,it will also send the alarm.
Order the samples directly from http://www.wafer-shopping.com :
GSM intercom Type: GSM-POINT or GSM-HELP
Ideal for private house or public emergency calling
Appear to be home or office when you're not & never miss deliveries... Convenience and security! Anti-vandal GSM Intercoms for flats, apartments or booking offices.