GSM Temperature and Humidity Monitoring,remote controller and alarm system
(Model: WF-TP02C)
The WF-TP02 is a complete standalone temperature and humidity monitoring solution and also have three alarm input port. One of the most compact and best value for money GSM temperature and humidity monitoring solutions on the market, the WF-TP Series is perfect for a wide range of applications where the user requires up-to-date temperature and humidity information or alerts. It can be placed anywhere with a GSM signal and will monitor and record the temperature from its sensor, attached via a cable, available in 1, 2, 3 , 5 and 10m lengths. Please note that the regular sensors are not suitable for immersing in liquids.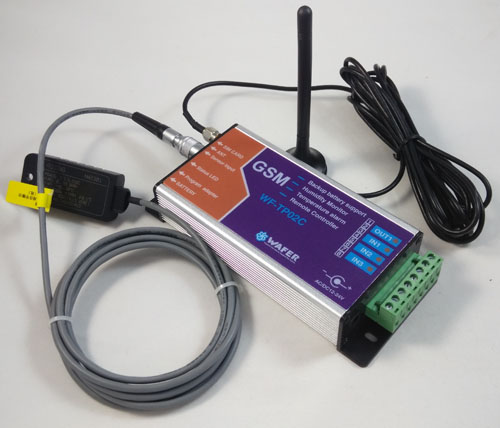 Package including:
One pcs WF-TP02C GSM temperature and humidity alarm and controller
One pcs AC to DC12V power adapter
One pcs GSM Magnet mount antenna (3 meter wire length)
One pcs USB program adaper
Important Note: Our shipping package doesn't include any Backup battery, customer need to order the battery according to wafer product specification in their local market
Our standard products is QUAD GSM BAND at 850/900/1800/1900 MHz, Before order ,please confirm your working frequency. and select the right products for your project.
Order the samples directly from http://www.wafer-shopping.com :
SMS Commands:

The WF-TP02C temperature and humidity monitoring unit can be configured both via a PC using a simple windows application, or by SMS text message commands to change the various settings; for example, to change maximum and minimum temperature and humidity limits, or request the current temperature and the WF-TP Series will text back the current temperature and humidity data.
Frequency Band: Global Quad Band GSM/GPRS Engine ( 850/900/1800/1900MHz )
Dimensions: 153 mm x 66 mm x 28 mm
Supply Voltage: DC12V
Typical Applications:
Server Room Monitoring

Museums, Archives, Galleries

Laboratory and Quality Test Workshops

Factories

Hospital Room Monitoring

Air-Conditioned Rooms

Cold Storage Monitoring

Green House Monitoring

Building Management and Automation
Robust aluminium construction.

Unlimited range wire free temperature monitoring using GSM module.

Three switch type alarm input port (volt free).

One Relay outputs to control most automation systems (volt free).

Easy operation with 20 numbers in monitor and remote control.

Works with mobile phones and land lines.

Mains powered with DC12v power adapter.

Temperature Range at : -40-120'c Temperature Detection accuracy
Backup battery supported for power off alarm and working
Humidity Range at 0-100% RH

PC Working parameters program software:
GSM temperature and humididy controller and alarm box
WF-TP GSM temperature controller USB Program adapter to PC Software: